About
ISBN:
9781598841749, 1598841742
Publisher:
Santa Barbara, CA: ABC-CLIO
Creation Myths of the World by David Leeming is a compendium of the world's creation stories. In its second edition, it has come to be a noted reference work for anyone interested in exploring the world's mythological stories.
Source: OMNIKA
The most comprehensive resource available on creation myths from around the world--their narratives, themes, motifs, similarities, and differences--and what they reveal about their cultures of origin.

ABC-CLIO's breakthrough reference work on creation beliefs from around the world returns in a richly updated and expanded new edition. From the Garden of Eden, to the female creators of Acoma Indians, to the rival creators of the Basonge tribe in the Congo, Creation Myths of the World: An Encyclopedia, Second Edition examines how different cultures explain the origins of their existence.

Expanded into two volumes, the new edition of Creation Myths of the World begins with introductory essays on the five basic types of creation stories, analyzing their nature and significance. Following are over 200 creation myths, each introduced with a brief discussion of its culture of origin. At the core of the new edition is its enhanced focus on creation mythology as a global human phenomenon, with greatly expanded coverage of recurring motifs, comparative themes, the influence of geography, the social impact of myths, and more.

* Over 200 entries on the creation myths of various peoples, belief systems, and religions from around the world, in addition to entries on the common features of many creation myths, such as the seed, the primordial being, the creative fire, water, and stages of creation

* 5 in-depth essays analyzing the nature and significance of the archetypal forms of creation myths

* A series of first person retellings of creation myths from different cultures by contemporary individuals

* Charts that categorize the myths according to type, theme, and geographical location

* An extensive glossary of terms related to creation myths--both general and specific

* An annotated bibliography of print and online resources for further exploration of all aspects of creation mythology

Source: Author or Publisher

expand_more

Read more

Read less
Access
Read for free
External sources
Contributor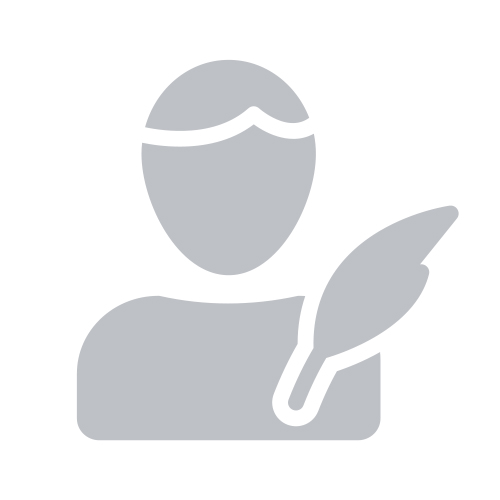 Author · Main contributor
David Adams Leeming is an American philologist and scholar of world mythology.

OMNIKA
Library
fullscreen
chevron_left
chevron_right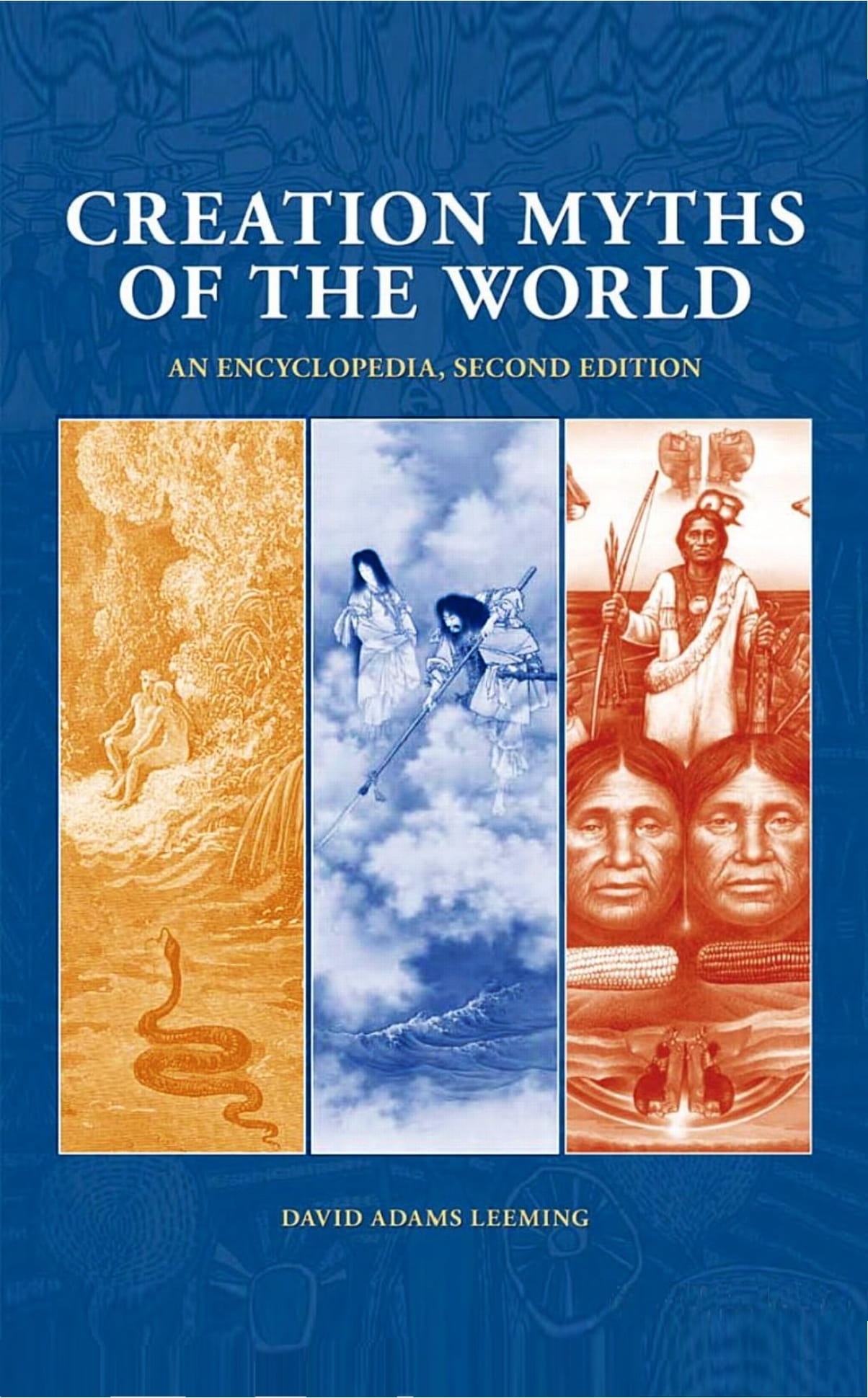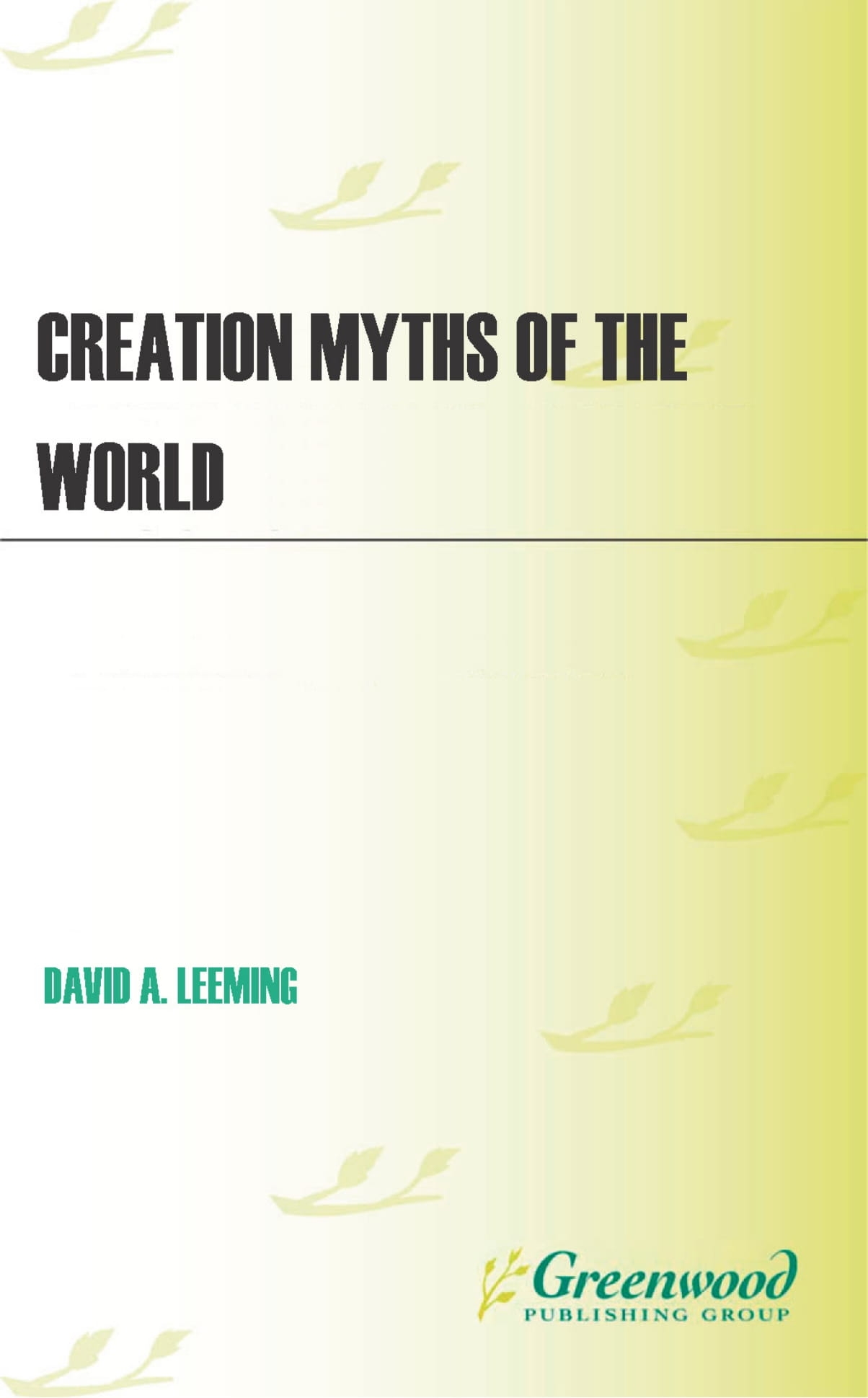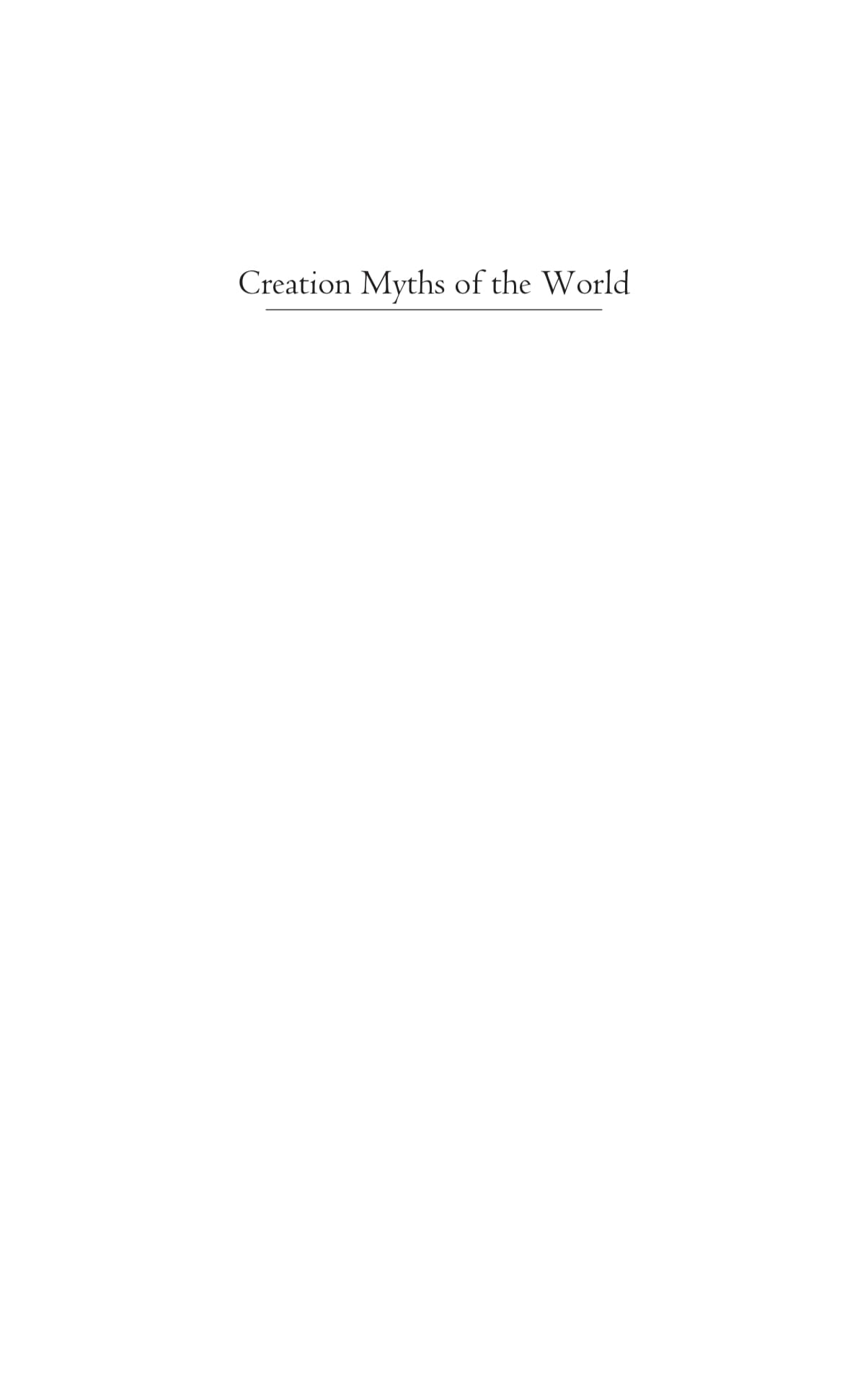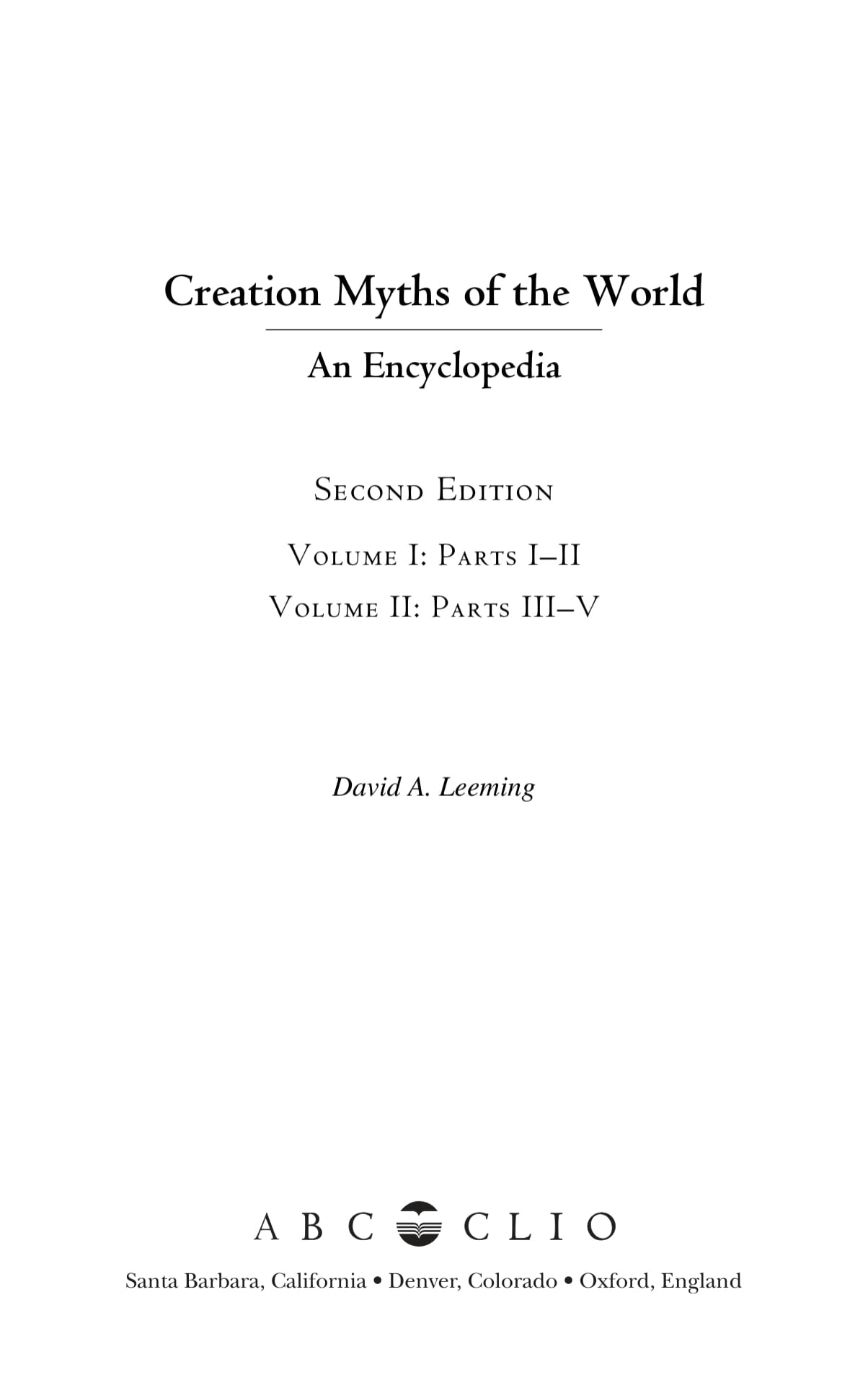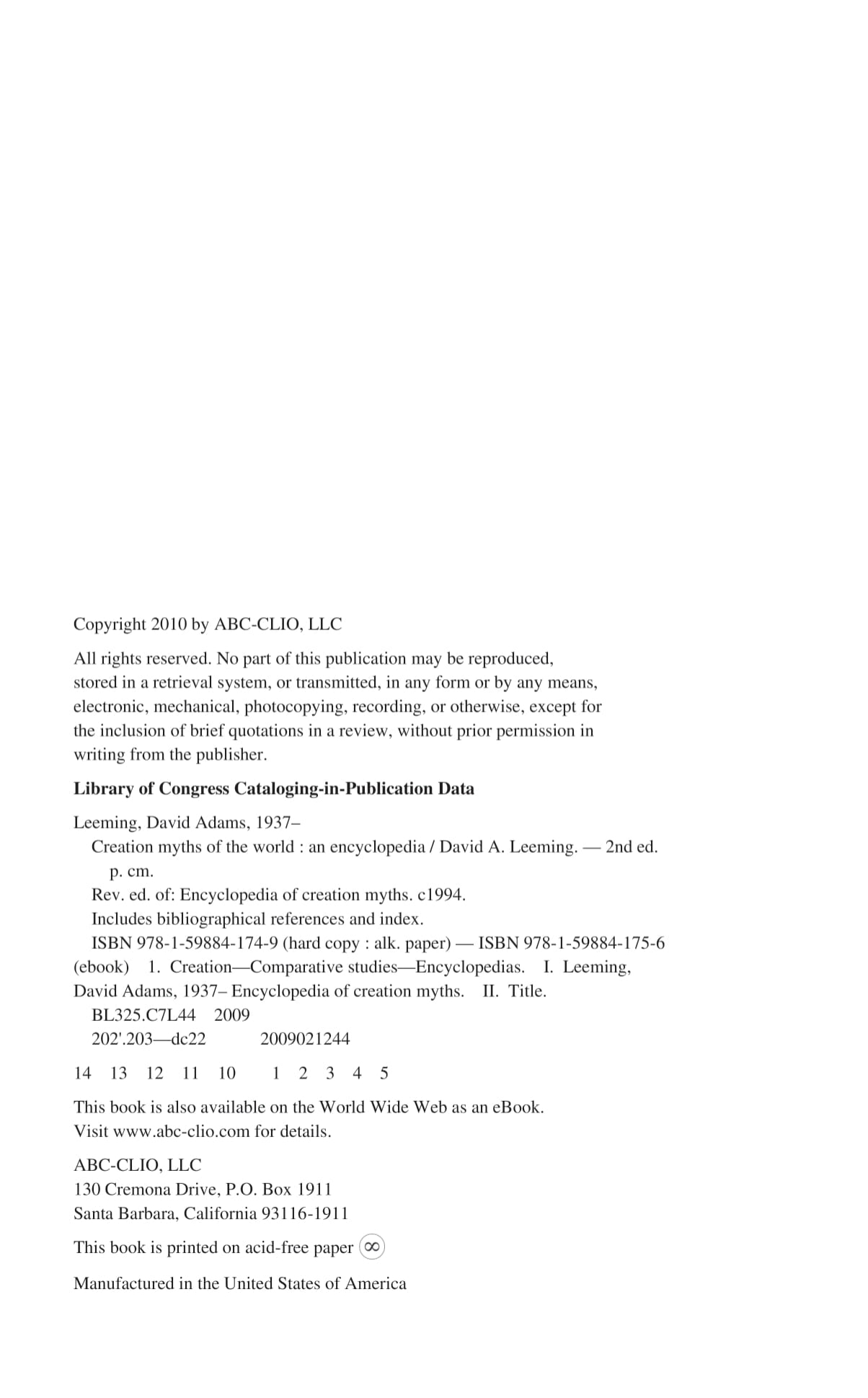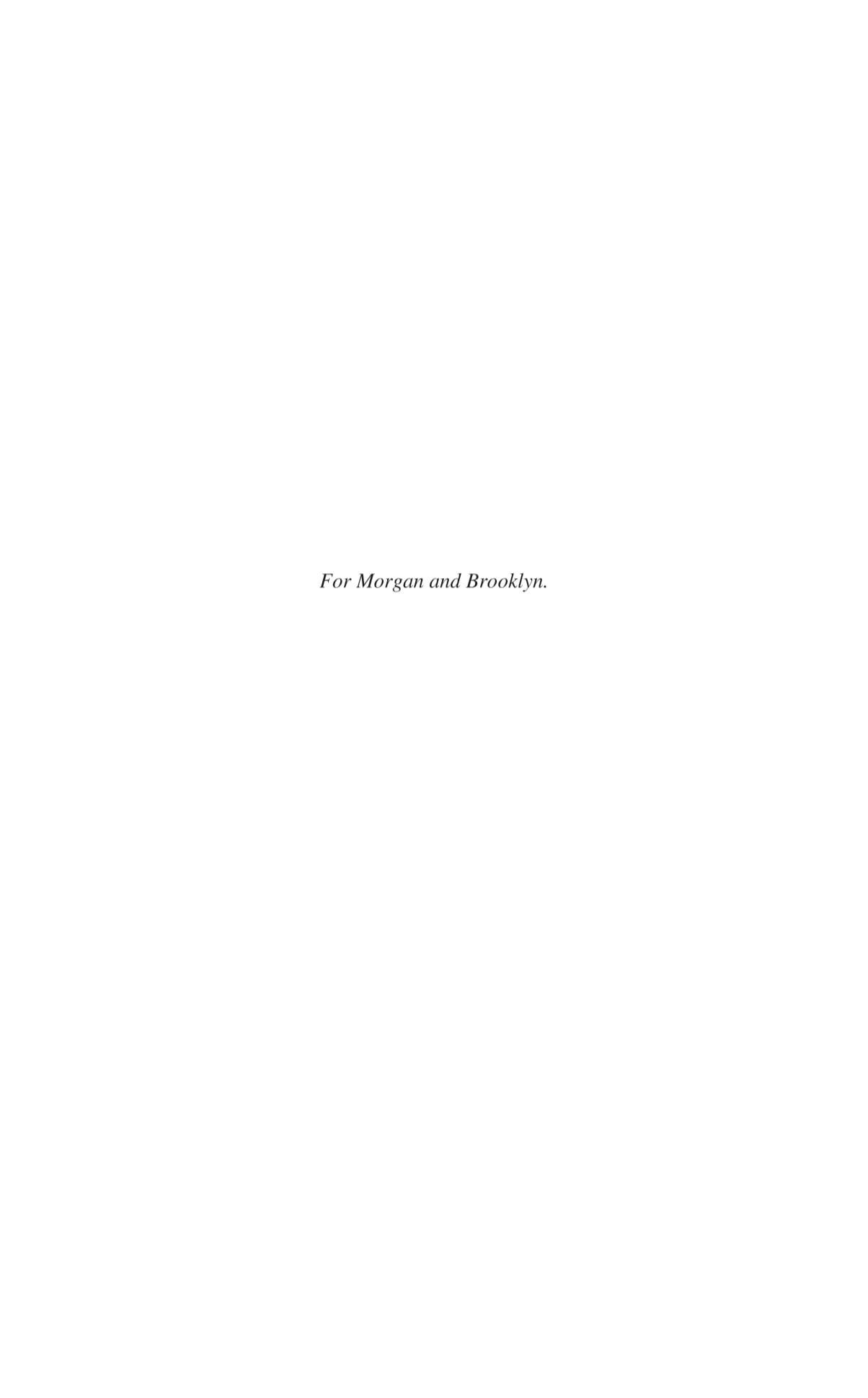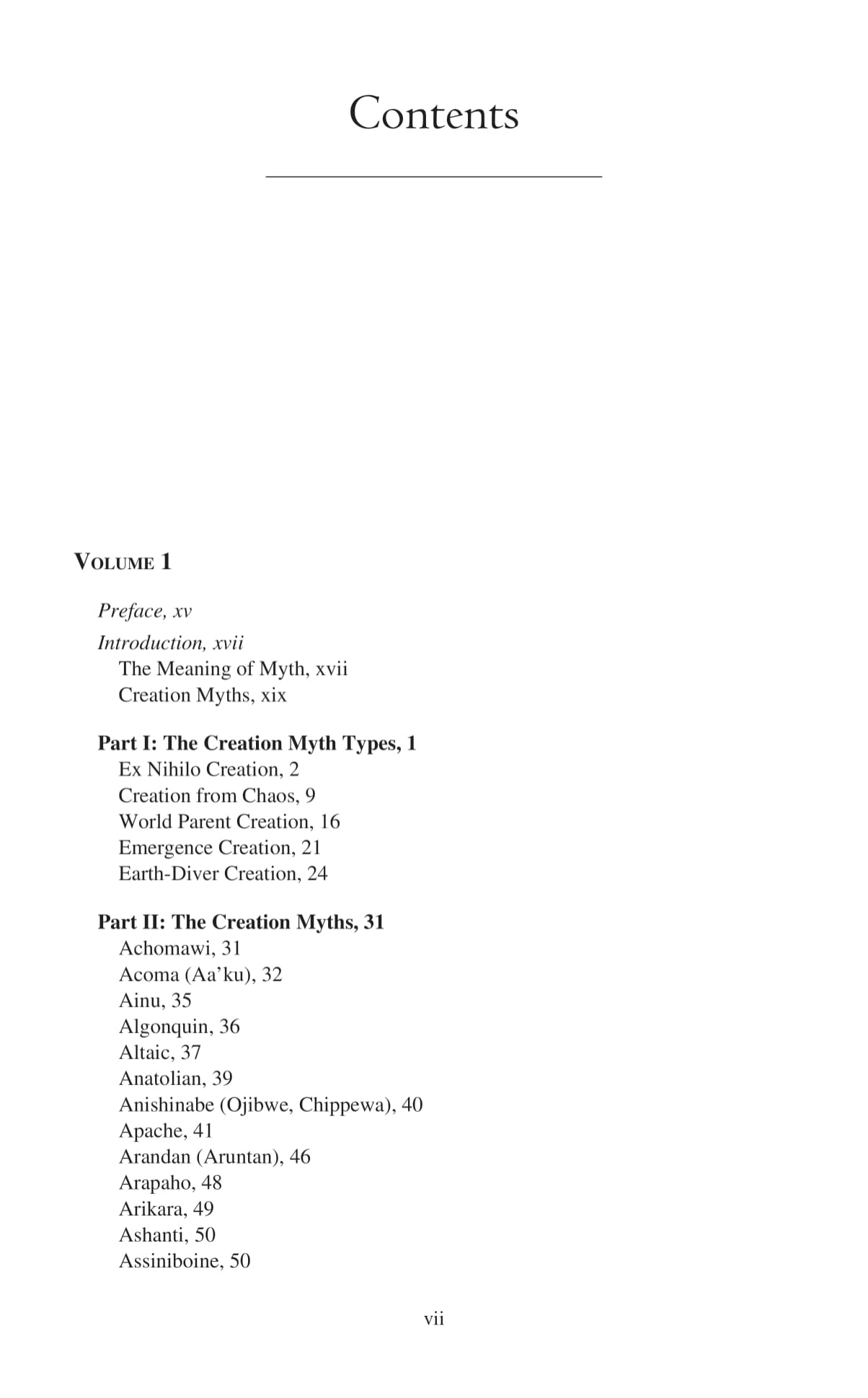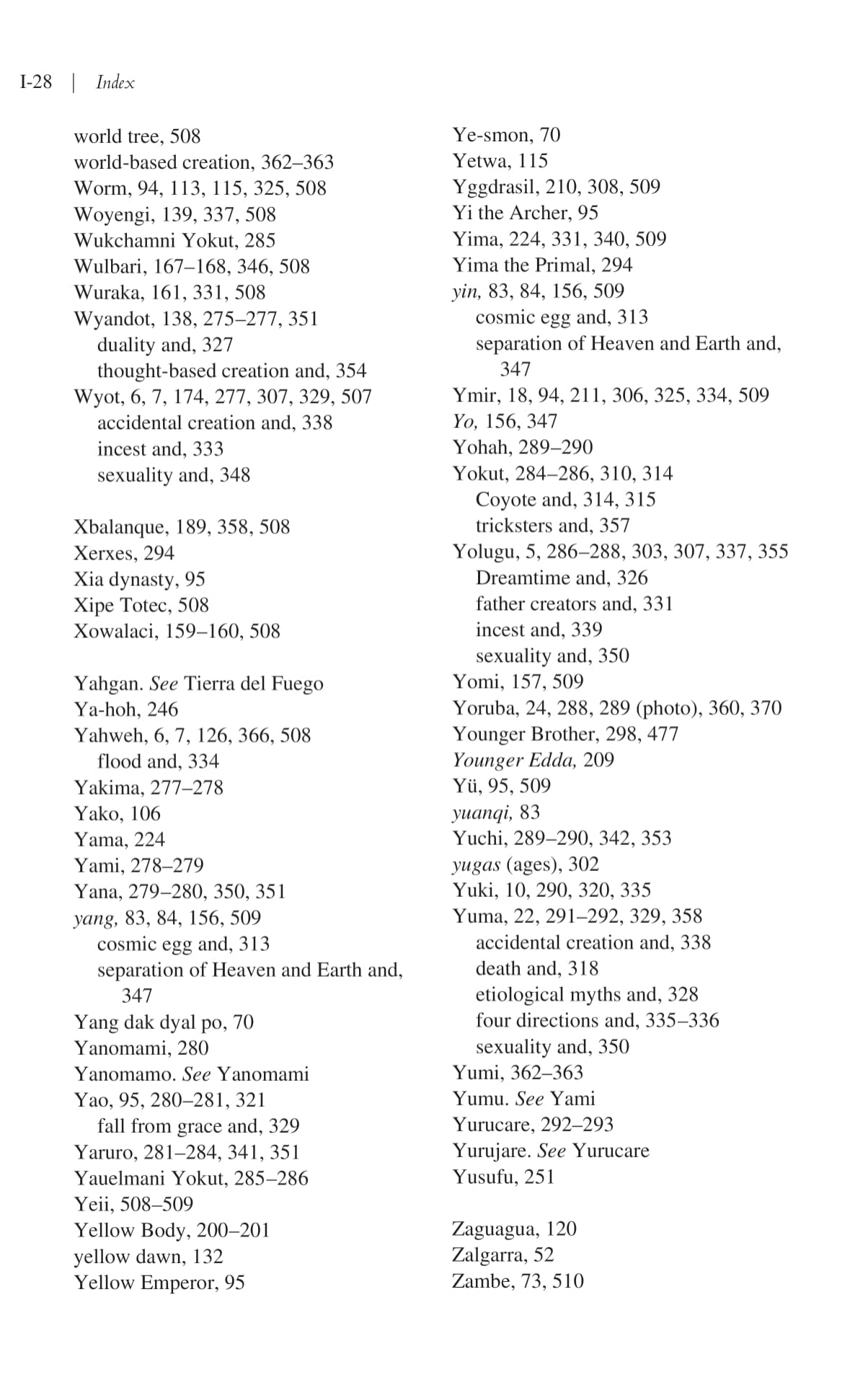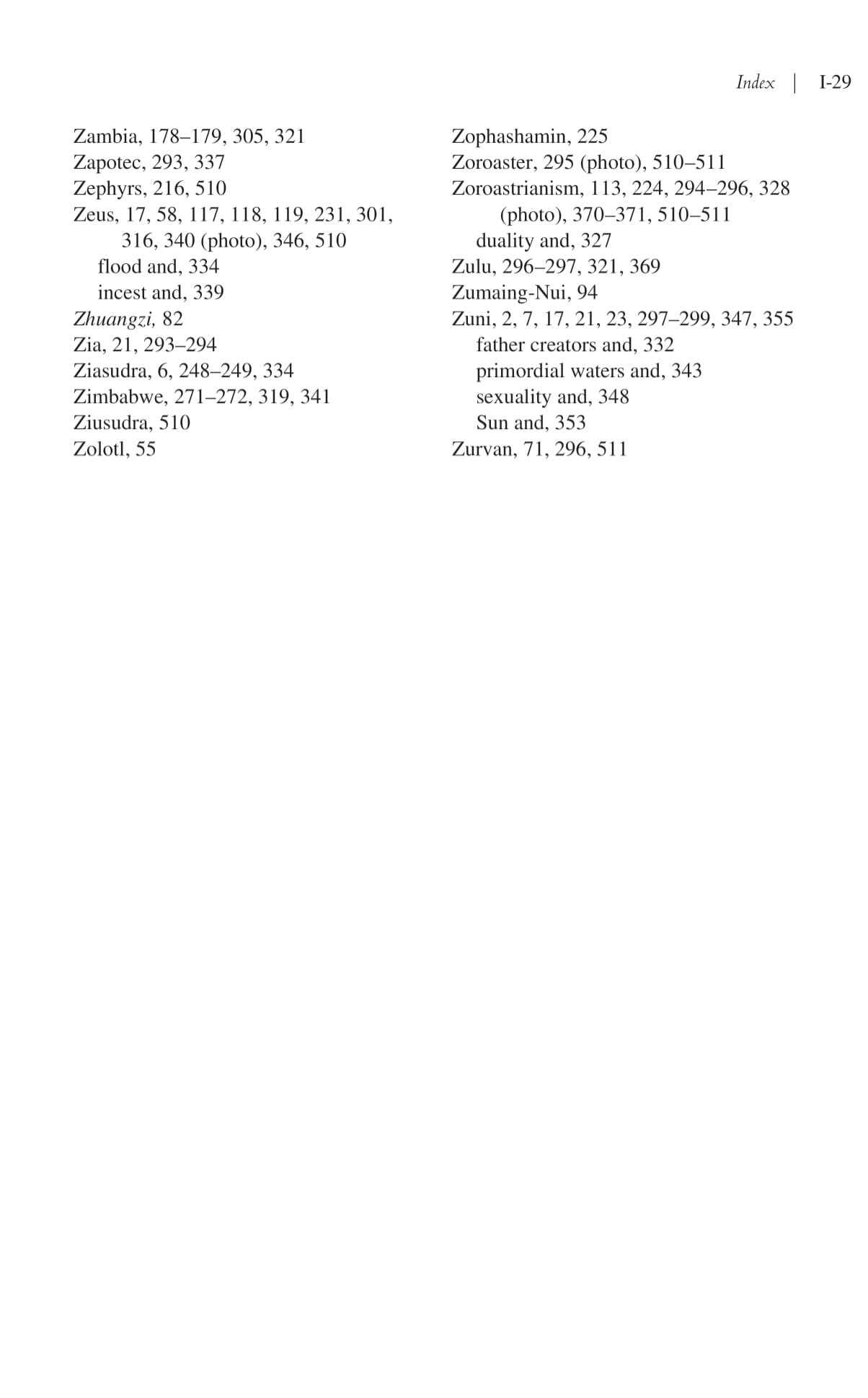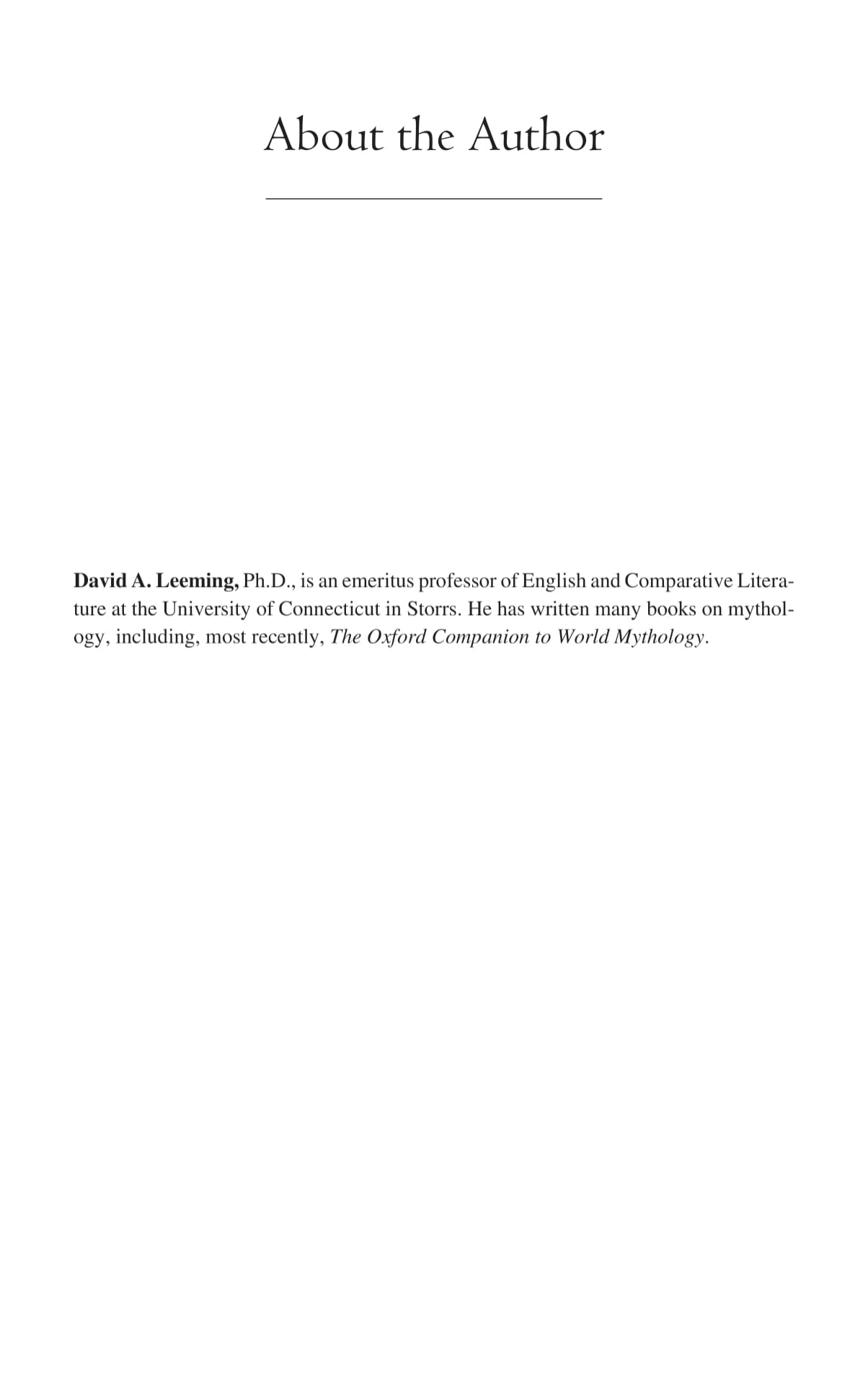 Cite this work
Chicago
Leeming, David A. Creation Myths of the World: An Encyclopedia. 2nd edition. Vol. 1 [Parts I-II]. Santa Barbara, CA: ABC-CLIO, 2010.